My Speaking Page
Official Bio
John Biggs is an entrepreneur, consultant, writer, and maker. He spent fifteen years as an editor for Gizmodo, CrunchGear, and TechCrunch and has a deep background in hardware startups, 3D printing, and blockchain. His work has appeared in Men's Health, Wired, and the New York Times.
He has written nine books including the best book on blogging, Bloggers Boot Camp, and a book about the most expensive timepiece ever made, Marie Antoinette's Watch. He lives in Brooklyn, New York.
I run the Keep Going podcast, a podcast about failure. My goal is to share how even the most confident and successful people had to face adversity.
As a lover of technology and a prolific writer, people ask me to speak at events about what I've seen and learned. I'm happy to do it and it ends up being quite fun for both me and the audience. I'm a dynamic, wry speaker and I will not bore a crowd. Here's how to convince me to come out to talk with your group.
Please note: Because of the high volume of requests, I usually require a minimum honorarium plus expenses as outlined below. Exceptions can be made for worthy events.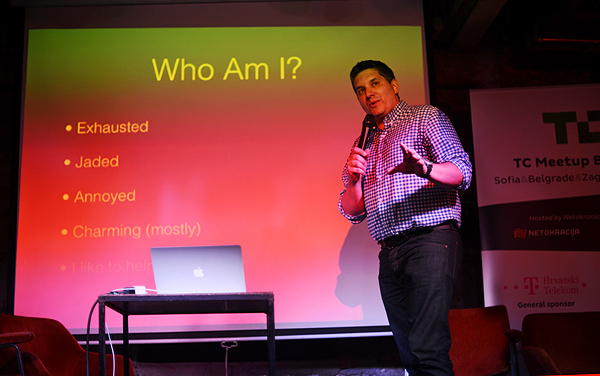 A Little Bit About Me

I've been writing and speaking for more than a decade on technology. I'm a former IT guy turned journalist and I love talking about what I've seen in my extensive travels, including my experience in worldwide manufacturing. I'm a futurist and an optimist and I feel I can express that excitement to an audience.
I am the former CEO of a fintech startup called Freemit and I have written and spoken extensively on the unbanked, cryptocurrency, and financial markets.
I have written three non-fiction books, Black Hat, Bloggers Boot Camp, and Marie Antoinette's Watch. I've also written for the New York Times, TechCrunch, and was the former editor of Gizmodo. I'm currently working with Grit Daily.
I'm also a skilled MC and can run your event from beginning to end.
I live in Brooklyn, New York.
Clips
This event was far less formal and a bit more off-the-cuff.
I also run interview sessions and panels.
Interview With Eric Migicovsky of Pebble.
Interview With The Winklevoss Twins

Booking
Who You Are
You're looking for a fun speaker to talk about a topic of your or my choosing. I'm interested in fintech, hardware, software, Internet culture, and the future. I'm not going to tell your audience about the latest advances in user experience or how to create a Docker instance. Instead, we're going to chat about our place in the current technological boom.
Maybe you're focusing on entrepreneurship. I can also give startup advice from various angles. I've watched small startups grow and blossom and/or explode and I know what makes entrepreneurs tick. I can give concrete advice.
What You Can Expect

Here's what you can expect from me:
A personal phone consultation to your event to assess the audience and topic.
An announcement on my private blog and social media channels.
A solid, fun presentation in line with your requests.
A resource page (if applicable) including a copy of the presentation.
A follow-up communication after the event to discuss the value added and how I can help you in the future.
I cannot offer a promise of coverage for your event on the news sites and sources for which I write.

My Most Requested Topics

Startup Marketing: I've heard every pitch in the book. I'll tell you how to give a good one and how to get the attention of someone like me. It's not hard, but there are tricks.
Cryptocurrency and Blockchain. This nascent field is quite compelling and one of the hottest new technologies in many sectors. I have access to interesting data and information regarding the space thanks to my role as CEO at a blockchain startup.
The Future. As a technophile, I come into contact with multiple new technologies. This talk is usually best for an audience looking for the next big thing. I help them find it.
Computer Security From A Human Perspective. Because I come into contact with a number of end users of security, I'm able to make assessments that go beyond wonky security talks.
Understanding Blogging. If your company is looking for a blogger whose brain they can pick, I'm your guy.
Hardware Startups: The Next Industrial Revolution I've been following hardware startups for nearly a decade and, with the rise of new manufacturing methods and funding sources, the space has exploded. I can share what I learned visiting the little guys (Makerbot, Adafruit Industries) and the big guys (Foxconn, Apple).
Remuneration
I expect transportation and lodging costs to be handled by the event staff and, ideally, transport too and from the airport closest to the event. An honorarium is also requested if possible.
Contact Me
Email me directly at john@biggs.cc or contact the Leigh Bureau for more extensive booking information. I look forward to making your event fun, entertaining, and educational.
Official Headshots